TetraLink
Genre
Strategy
Release
27th February 2008
Multi-player
Yes

TetraLink is a strategy game that was released on 27th February 2008, the day of FunOrb's release. It is identical in terms of gameplay to Connect Four, which was originally called "The Captain's Mistress". TetraLink was the first game, along with Chess.
Tetralink is set in a small room on a futuristic-looking spaceship called "Kolonia 1". This may be a reference to the legend that says how the game came to be called The Captain's Mistress - Captain Cook apparently spent his evenings on voyages playing the game in his cabin[1].
Gameplay
TetraLink is a game where players take turns to place counters into a 6-row, 7-column grid. In order to win, one must place four of their counters in a straight line horizontally, vertically or diagonally. This game is multiplayer, and has a lobby to match people for games. Players who are active in TetraLink are able to chat with their friends on RuneScape and the multi-player FunOrb games. There is a hotseat mode, where two players play on the same computer.
Rated Games
Every multiplayer game has a player rating, which determines the player's average score. When playing a rated game, the winner will gain rating, while the loser will lose rating. Each player has separate ratings for different games. One cannot choose their opponent in a rated game, and it cannot be played in hotseat mode. In the event where neither player can get four counters in a row, or if they both accept a draw, a players rating does not change.
Achievements
Total Achievements: 8
Total Orb Coins: 10
Total Orb Points: 1000
[Secret Achievements] | [Hidden Achievements] [Halloween Achievements]
All information for these achievements is stored on their respective pages, along with walkthroughs and tips for many of them. So, if you notice a mistake, or have a good strategy, go there!

Did you notice a missing achievement? You can help the FunOrb Wiki by making a page for it. Simply type the achievement name in this box to make a page for it.<createbox> width=30 break=no prefix=TetraLink/Achievement: preload=FunOrb Wiki:Achievement Articles/Preloader buttonlabel=Create page </createbox>
Halloween 2008
On Halloween 2008, the TetraLink menu had various ghosts floating around, and the red and white pieces were replaced with skulls and pumpkins. The "Ghosts in the Machine" achievement is also available, but only during this period of time. A ghost was also seen behind the computer console on the main screen, which was actually the same ghost used as an NPC in RuneScape.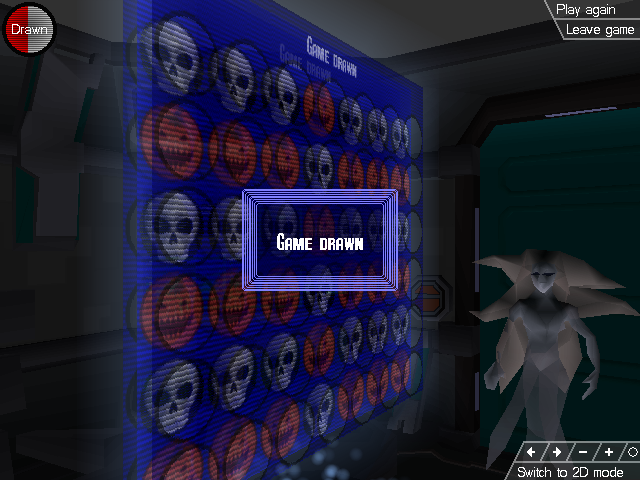 Trivia
The achievement "Ghosts in the Machine" could be a reference to any one of a number of things.
This game is based around "Connect 4", a game developed by the Milton Bradley company.
The same game is spoken in RuneScape in Burthorpe Games Room. Unlike Tetralink, there are only rated games. Every player starts with 1000 rating and there are available rooms for people with at least 1500 rating.
With only 8 achievements, Tetralink has fewer achievements than any other game on FunOrb, and with only 1,000 orb points, it also has a lower number of Orb Points than any other game.
Despite the fact you can only get a maximum of 10 orb coins from the game, it's sole orb download costs 20 coins.
References