The Track Controller
Genre
Puzzle
Release
27th February 2008
Multi-player
No

The Track Controller is a puzzle game that was released on 27th February 2008 with the release of FunOrb.
Gameplay
In this game, you must push track pieces into the correct layout in a museum (as shown on the screen) as quickly as possible, before the public arrive. You can retry as many times as you like, or if a certain piece gets stuck.
Instructions
It's the opening morning of your model railway exhibition, and you find that the delivery men have scattered your blocks of track seemingly at random. Panic! You must act quickly to push the into the right layout before the public arrive. The task is complicated by the curious design of the exhibition hall, which has some highly polished floors and conveyor belts.
Move around the exhibition rooms using the arrow keys or the mouse. Note that mouse clicks should be in the same row or column as your character.
| Name | Description |
| --- | --- |
| Floor | The medium through which you and the track moves. |
| Track | Push these blocks of track to assemble the model railway exhibits. |
| Immovable Obstacle | The walls of the exhibition hall. Obviously these can't be moved. |
| Smooth Floor | Track pushed onto this will continue to slide. |
| Conveyor Belt | This will push track in the direction indicated. You can push track across the belt and walk onto it, but not against it. |
Level Layouts
Each level has the main screen on the left, the picture of the finished exhibit on the bottom right, the pause and restart buttons in the center right, and the other details on the top right.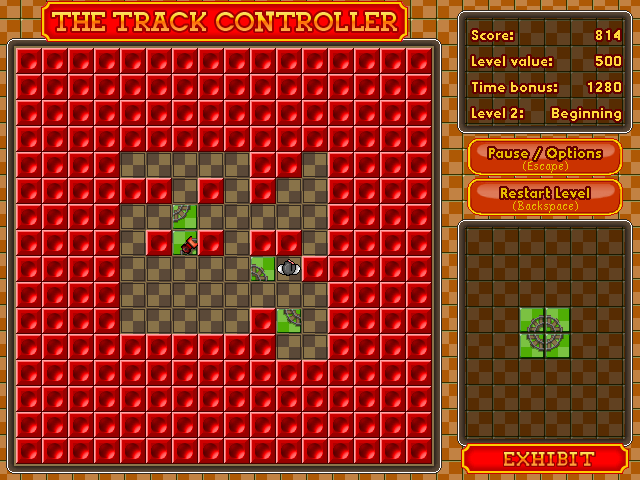 Levels
Achievements
Total Achievements: 13
Total Orb Coins: 45
Total Orb Points: 4500
[Secret Achievements] | [Hidden Achievements] [Halloween Achievements]
All information for these achievements is stored on their respective pages, along with walkthroughs and tips for many of them. So, if you notice a mistake, or have a good strategy, go there!Did you notice a missing achievement? You can help the FunOrb Wiki by making a page for it. Simply type the achievement name in this box to make a page for it.
Trivia
On the 28th of October 2009, The Track Controller became fully available to free players. Before that, only levels 1-6 were available.