Virogrid
Genre
Strategy
Release
09 February 2009 *
Multi-player
Yes

Virogrid is a re-release of the old Jagex multiplayer strategy game SlimeWar. As SlimeWar was originally free to play, Virogrid is too. The game is very similar in concept to the classic board game, "Reversi", except with slightly different rules.
This game was briefly released on the 5th February 2009 as "Ataxtix".
Gameplay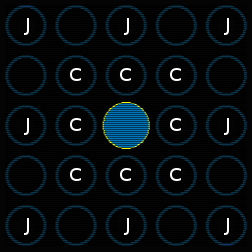 The game is played on a square grid of size 7x7, 9x9 or 11x11. Each player starts with two pieces in diagonally opposite corners.
A turn consists of cloning or jumping a piece. Cloning a piece consists of selecting one of your pieces and an adjacent empty square, and creates a new piece in that empty square. Jumping consists of selecting one of your pieces and an empty square at a distance of two squares (see diagram); the piece moves to the selected square, leaving the one it was in empty. Any opposing pieces adjacent to, respectively, the new or jumped piece are captured and change sides.
A player who has a legal move on their turn must move: failure to do so before time runs out is considered a resignation. It is possible to get a situation where only one player has legal moves. If at the start of a player's turn they have no legal moves the game automatically fills the remaining spaces with pieces of the other player.
The game is won by capturing all of the opponent's pieces or by having the most pieces when the board is full. As the boards all have an odd number of squares a draw is possible only by agreement.
Achievements
Total Achievements: 10
Total Orb Coins: 18
Total Orb Points: 1800
[Secret Achievements] | [Hidden Achievements] [Halloween Achievements]
All information for these achievements is stored on their respective pages, along with walkthroughs and tips for many of them. So, if you notice a mistake, or have a good strategy, go there!

Did you notice a missing achievement? You can help the FunOrb Wiki by making a page for it. Simply type the achievement name in this box to make a page for it.<createbox> width=30 break=no prefix=Virogrid/Achievement: preload=FunOrb Wiki:Achievement Articles/Preloader buttonlabel=Create page </createbox>
Ataxtix

Virogrid was released briefly on 5th February 2009 under the name Ataxtix before being taken down and re-released four days later with the current name. It is the only FunOrb game to date to have been renamed in this way. Two of the achievements (Ataxtix Xxpert and Ataxtix Addict) were also renamed (Virogrid Expert and Virogrid Addict respectively). Some people who gained achievements in the initial launch period found that they transferred to Virogrid, but others claim to have lost them.
The name Ataxtix may be a pun both on the word "tactics" and on the game Ataxx, which has the same gameplay.
Trivia
The font in the logo for this game is a similar font used in Pixelate.
The game environment is set in Kolonia 1, the same environment as TetraLink, although it looks slightly different. Virogrid is described as being part of the "Classic earth set" of games available in the Kolonia 1 Interactive Entertainment System.